I know Screamin Eagle used to make a "race brace" that bolted the right side of the tranny to the right side of the motor.  This brace stiffens the coupling between the engine and tansmission and is supposed to eliminate many problems with inner primary failure to rear exhaust clamp failure. HD recalled them all due to rear brake interference.
I think I can get around the brake issue since my forward controls have an offset brake activation rod.  However, I have no idea what the brace originally looked like.
Did it bolt from the transmission to the oil pump body or onto the timing cover or cases somehow? Anybody got a picture of one installed?
Appreciate any assistance.
UPDATE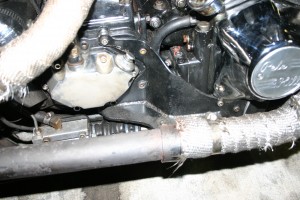 Many thanks to Joe McCaskill.  I now have the following picture of a working race brace.  This one was custom built at an aircraft fabricating plant.  Should be able to reproduce it with "a little help from my friends."
This system incorporates not only a brace between the transmission and the motor but also provides a mounting flange for the from pipe.  I believe he also has the stock exhaust mounting hardware in place.
Click on the image for a larger view of this system.